News
Announcement of General Meeting of Shareholders SIK 2021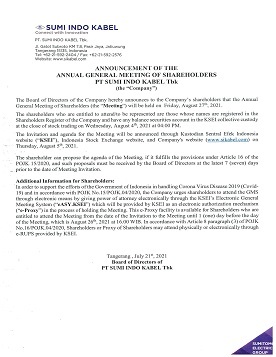 The Board of Directors of the Company hereby announces to the Company's shareholders that the Annual General Meeting of Shareholders (the "Meeting") will be held on Friday, August 27th, 2021.
The shareholders who are entitled to attend/to be represented are those whose names are registered in the Shareholders Register of the Company and have any balance securities account in the KSEI collective custody at the close of stock trading on Wednesday, August 4th, 2021 at 04:00 PM.
The Invitation and agenda for the Meeting will be announced through Kustodian Sentral Efek Indonesia website ("KSEI"), the Indonesia Stock Exchange website, and Company's website (www.sikabel.com) on Thursday, August 5th, 2021.

The shareholder can propose the agenda of the Meeting if it fulfills the provisions under Article 16 of the POJK 15/2020, and such proposals must be received by the Board of Directors at the latest 7 (seven) days prior to the date of Meeting Invitation.

Additional Information for Shareholders:
In order to support the efforts of the Government of Indonesia in handling Corona Virus Disease 2019 (Covid-19) and in accordance with POJK No.15/POJK.04/2020, the Company urges shareholders to attend the GMS through electronic means by giving power of attorney electronically through the KSEI's Electronic General Meeting System ("eASY.KSEI") which will be provided by KSEI as an electronic authorization mechanism ("e-Proxy") in the process of holding the Meeting. This e-Proxy facility is available for Shareholders who are entitled to attend the Meeting from the date of the Invitation to the Meeting until 1 (one) day before the day of the Meeting, which is August 26th, 2021 at 16.00 WIB. In accordance with Article 8 paragraph (3) of POJK No.16/POJK.04/2020, Shareholders or Proxy of Shareholders may attend physically or electronically through e-RUPS provided by KSEI.



Tangerang, July 21st, 2021
Board of Directors of
PT SUMI INDO KABEL Tbk